112 years ago today, an powerful theme of 20th century American history–the influence of mass media–found expression a few years before the new century would begin.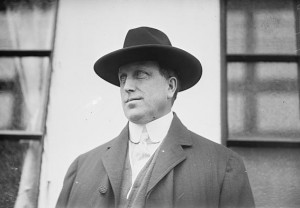 The story centers on William Randolph Hearst, the son of a U.S. senator from California who had made a fortune in the mid-1800s mining industry.  Hearst developed a passion for journalism and wrote for the Harvard Lampoon while a college student before working as an apprentice for New York World editor Joseph Pulitzer.
Hearst returned to California in 1887 at the age of 24 and , with the aid of his father's wealth, became the owner and operator of the San Francisco Examiner, imitating the flashy, sensationalistic style of Pulitzer.  In 1895, Hearst returned east, purchasing and running the New York Journal.  This put him in direct competition with his former mentor and accelerated the intensely competitive environment of newspaper publishing in New York City.
As Hearst sought to gain readership for his New York Journal against Pulitzer's New York World, he pursued increasingly sensational stories.  Front pages shouted about the boy who bit into a stick of dynamite thinking it was candy and leading to an "awful death" and a tale of a deranged girl running down a street with her hair "all ablaze", and other stories of violence, sex, catastrophe, and mayhem  were typical of what became known as "yellow journalism", so named because the newly-introduced colored comics sections often spread a yellow smeared to other parts of these newspapers.
But Hearst found that these sensational stories–as successful as they were in attracting readers–lacked the benefit of carrying on from day to day and week to week.  In search of such a story, Hearst grasped onto the Cuban revolt against Spain in 1895.  His paper regularly published stories sympathetic to the still sparse revolutionary cause and describing in great detail real and rumored atrocities of the Spanish.  Hearst hoped to spark U.S. intervention in Cuba and was persistent in finding ways to achieve it, including organizing a daring and successful rescue mission to free a young, female Cuban political prisoner, Evangelina Cisneros, which he proudly trumpeted on the front page of the Journal.
Though the Cuban insurrection against their Spanish rulers was stagnating, Hearst continued to send many of his high-profile writers and illustrators to the Cuba in hopes of capturing a great story.  Among Hearst's employees was the famed illustrator Frederic Remington.  In 1897, Remington became very bored by the lack of anything newsworthy in Cuba and cabled to Hearst, "Everything quiet.  There is no trouble here.  There will be no war.  Wish to return."  In response to Remington's message, Hearst reportedly replied, "Please remain.  You furnish the pictures and I'll furnish the war."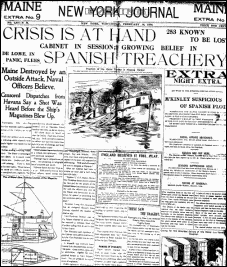 Less than three weeks later, the American ship USS Maine exploded in Havana Harbor.  The cause of the explosion that claimed 274 lives remains a mystery.  Theories for its destruction include that the ship detonated an external mine, that it was caused by an undetected internal coal fire, that it was attacked by the Spanish, and even that it was intentionally attacked by American forces eager to have the United States enter a war with Spain.
Whatever its true cause, Hearst determined that the sinking of the Maine was the result of Spanish treachery and his paper vigorously published stories that helped create and foster the American sentiment reflected in the popular phrase, "Remember the Maine, to Hell with Spain!"  Within three months, the United States was at war with Spain in what became known as the Spanish-American War.  Though it was only one of the factors–and an often overemphasized factor–that led the U.S. into war with Spain, the effect of Hearst's newspaper on shaping American support for war was enormously significant.  It also signified the growing influence of mass media, which had never before proven to be as immediate and far-reaching.
Within four months, the United States defeated Spain, becoming a truly global power while simultaneously marking an end to Spanish imperialism.  Hearst would continue solidifying his status as a media mogul, eventually becoming the leading newspaper and magazine publisher in the world.  He served two terms as a Democrat in the U.S. Congress, was partial inspiration for the character Kane in Orson Welles's legendary film "Citizen Kane", and lived for most of his later years at the extravagant, 90,000 square foot Hearst Castle in San Simeon, California.
Hearst died on August 14, 1951 in Beverly Hills, California, just less than a quarter century before his grandaugher, Patty Hearst, was the focus of the the kind of sensational news story his old New York Journal would have devoured.
39 Responses to ""You furnish the pictures and I'll furnish the war." – William Randolph Hearst, January 25, 1898"
Write a comment