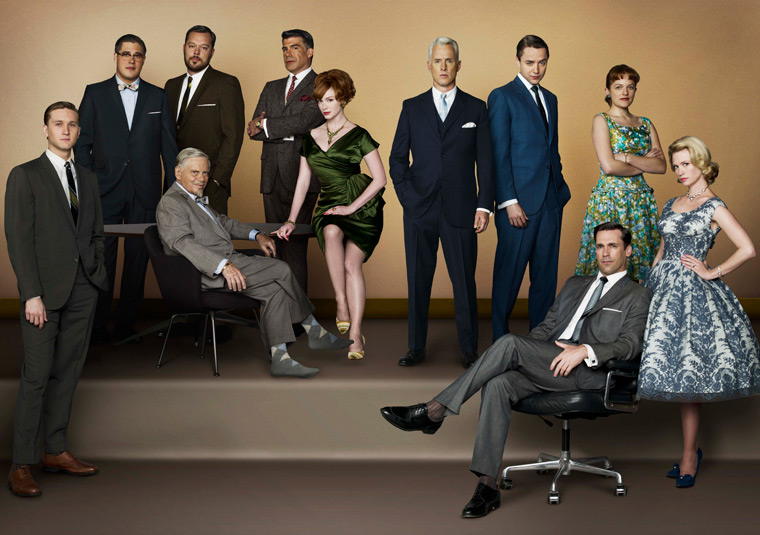 "Mad Men", which begins its fourth season Sunday night on AMC, has accumulated near-unanimous praise from critics–it has won the past two Emmys for "Best Drama"–and an increasing share of the television audience, helping previously-lightweight cable network AMC rise to prominence.  The show is justifiably lauded for its pitch-perfect performances, meticulous attention to historical and cultural detail, and its famed style, which has led the term "Mad Men" to become a shorthand descriptor for early-60s cool.
But what distinguishes "Mad Men" most is its writing.  From the mind and pen of show creator Matthew Weiner and his team of writers come the sharpest and most compelling words in the history of American television drama.  Below–and with apologies to the authors and actors of the stellar dialogue spoken by characters Joan, Betty, Sally, Sal, and others–are just ten such examples that tell the us about the people portrayed on the show, the time and place in which they exist, and America–then and now.
* "Forget that boy in the box." – woman on train (Season 1, Episode 12)
Flashback advice from a pretty young woman to the character who comes to be known as Don as he returns from the Korean War to the home he detests.  He's accompanying the body of a dead soldier named Don Draper, but because of Don's desire to make a new life and his switching of dog tags, that dead man is now presumed to be Dick Whitman.  Don takes the kind stranger's advice, staying on the train as the casket is received, with the intention of never looking back.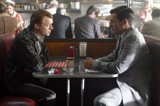 * "I have a life and it only goes in one direction–forward." – Don Draper (Season 1, Episode 5)
Don rejects reconnecting with his younger and adoring half-brother Adam in an attempt to preserve what he created with his new identity.  Adam's ensuing suicide suggest that these words reflect more of a wish than reality for Don and portend future conflicts with his past (two seasons later, Don echoed this idea by telling his colleagues struggling to come up with an approach for a potentially huge client, "There is no American history, only frontier.")
* "Who cares?" – Bert Cooper (Season 1, Episode 12)
Sterling Cooper's elder statesman Bert Cooper rejects young account executive Pete Campbell's identity-revealing power play against Don, explaining to Pete, " Even if this were true, who cares? This country was built and run by men with worse stories than whatever you've imagined here."

* "I had to go all the way to the mail room, but I found one."- Roger Sterling (Season 1, Episode 1)
The typically casual bigotry portrayed by "Mad Men" is found in this quip, in which company scion Roger describes to Don his search for a Jew to attend a meeting with potential clients–the Jewish father and daughter who own a Manhattan department store.

* "Why can't I get anything good all at once?"- Pete Campbell (Season 3, Episode 1)

Pete isn't happy with only being named the co-head of accounts.  On the surface, these words reflect Pete's smarmy sense of entitlement.  But Pete's intelligence and his emerging and distinguishing grasp and acceptance of modern sensibilities are traits that will likely serve him well in the world of American business.


* "I've been here ten months and no one's ever asked me where I went to school." – Lane Pryce (Season 3, Episode 10)
The egalitarian nature of American society is reflected in these wistfully appreciative words from the British financial officer brought to Sterling Cooper after the company he works for bought the advertising firm. Pryce expresses this sentiment  to his crying and homesick wife, who complains that he likes it in America, [despite] "The smells and the noise and the criminals at every level."

* "You have everything and you have so much of it." – Peggy Olson (Season 3, Episode 5)

Peggy's line to Don is cruelly ironic because, like many others on the show, he is still disillusioned and unhappy despite seemingly having achieved the American dream of success, wealth, and family.

* "I want to work.  I want to build something of my own…" – Don Draper (Season 3, Episode 13)

With his professional and home lives coming apart, Don commits to a challenging opportunity in a line rich with the spirit of American ambition and independence.

* "…in Greek nostalgia literally means the pain from an old wound. It's a twinge in your heart far more powerful than memory alone. This device isn't a spaceship, it's a time machine. It goes backwards, forwards. It takes us to a place where we ache to go again. It's not called the wheel, it's called the carousel. It lets us travel the way a child travels. Round and around and back home again to a place where we know we are loved." – Don Draper (Season 1, Episode 13)

In this most famous scene from "Mad Men", Don's genius for advertising and his understanding of the power of memory is beautifully shown in a successful pitch for a slide projector.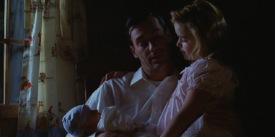 * "This is your little brother.  He's only a baby.  We don't know who he is yet or who he's going to be. And that is a wonderful thing." – Don Draper (Season 3, Episode 6)

Don sits with his newborn son and pre-adolescent daughter Sally, reassuring the girl who was spooked by the resemblance of the baby to her recently deceased grandfather.  In his tender words, Don captures the essence of American self-invention and the focus on identity that are central to the show's brilliance.