In honor of Veteran's Day, I am posting this excerpt from my book proposal, Words Mattered: The 200 Quotations That Created, Shaped, and Explain American History.  Although the post deals with veterans of the Vietnam War, its message of service and sacrifice apply to American military veterans of all eras, including our current one.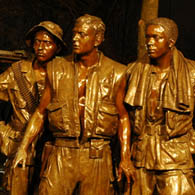 Most Americans were eager to move on from the despair of the Vietnam War as soon as the U.S. withdrawal was complete.  Many Vietnam veterans also hoped to resume their lives, but found doing so far more difficult.  Often ignored and occasionally shunned by their fellow citizens, Vietnam veterans were still dealing with residual problems from their experience in service: they battled post-traumatic stress disorder, and higher than normal rates of divorce, drug and alcohol addiction, and depression.
One way that Americans sought to seek closure on the Vietnam War was in movies.  It took over five years from American withdrawal in Southeast Asia until major motion pictures about U.S. involvement in Vietnam broke through into widespread popularity, but when they did, these films provided keen insight into how the American experience in Vietnam was being processed and understood. In 1979, Francis Ford Coppola co-wrote, produced, and directed "Apocolypse Now," a dark treatment of war that reflected much of the seeming senselessness and tragic irony of America's experience in Vietnam.  Reflecting this theme of the film, actor Robert Duvall, portraying Lieutenant Colonel Bill Kilgore enthusiastically tells another man in his company, "Do you smell that? Napalm, son. Nothing else in the world smells like that. I love the smell of napalm in the morning. You know, one time we had a hill bombed, for twelve hours. When it was all over I walked up… The smell, you know that gasoline smell, the whole hill. Smelled like… victory. Someday this war's gonna end."
A person particularly moved by one of the popular and critically acclaimed Vietnam War movies was Jan Scruggs.  An infantryman who served and was wounded in Vietnam, Scruggs pursued his vision for a memorial that would allow him and his fellow Vietnam veterans to "have a place to confront and perhaps make peace with the ghosts of their past" after seeing "The Deer Hunter", the 1979 Academy Award winner for Best Picture, which focused on the deep trauma affecting American soldiers in Vietnam and the difficulty they had upon trying to return to life at home. Scruggs insisted that none of the money raised to support the memorial come from the U.S. government and in less than three years, he eventually raised over five million dollars from over 650,000 donors.
A competition to determine the design of the memorial was won by Maya Lin, a twenty-year-old student at Yale University.  She later wrote of her vision for a rising V-shaped granite wall that listed the names of every American who died in the Vietnam War, "I had an impulse to cut open the earth…an initial violence that in time would heal."  Like almost everything else related to the Vietnam War, even this attempt to honor and remember its fallen divided Americans.  Many rejected the unconventional design, denouncing it as a "black gash of shame" and criticizing its lack of traditional memorial features such as statues and a flagpole.  A compromise was reached to include a flagpole and a bronze statue of three soldiers, who seem to be looking at the Wall.

The Vietnam Veterans Memorial was dedicated on Veterans Day in 1982 in the brisk late-autumn air of the nation's capitol.  It was quickly embraced by veterans and others around the United States and the world, attracting over three million visitors a year, more than triple the amount of the White House and the Washington Monument combined. In the initial days following the opening of the Wall, a fascinating and largely unexpected ritual occurred several times a day.  In addition to solemnly tracing their fingers along the names carved in the Wall's granite, family and friends of those Americans who perished in Vietnam were leaving artifacts at this shrine to their sacrifice.  In the first 25 years of the wall's existence, over 100,000 such artifacts were left by visitors, which were then collected and stored by the National Park Service.  They included notes, photos, badges, dog tags, and an endless variety of obviously cherished objects: a sonogram image of a baby who would never know his or her grandfather, a child's baseball glove accompanied by a message of love for a long passed dad, toys played with by American boys who grew to become young men who died in Vietnam.
In 1985, a woman left a note for three high school friends whose names are carved into the Wall.  Her expression of grief–and the wisdom she hoped had been acquired as a result of it–reflects that of the United States as it sought to heal from the wounds of the Vietnam War.  "Well, that time has rolled around and the Class of '65 is having its 20-year reunion.  Cheers, cheers for old Orchard Park High School…After you died…I pretty much screwed up for ten years…Now I'm much better, more responsible. I learn that the pain and loss never goes away.  It just changes."