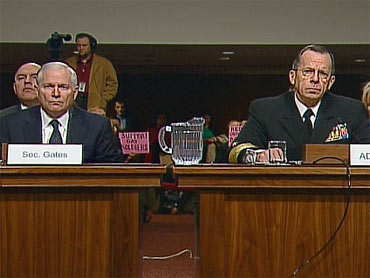 In the past few weeks we have witnessed many important events in American politics, particularly the election of Republican Scott Brown to fill the Senate seat of the late Ted Kennedy, President Obama's State of the Union Address, and the compelling viewing that was the exchange between Obama and House Republicans at their retreat in Baltimore.
However, years from now, I suspect that the most meaningful development of this eventful first part of 2010 will be yesterday's testimony of Admiral Mike Mullen, the chairman of the Joint Chiefs of Staff, and Secretary of Defense Robert Gates.  Each man strongly and articulately expressed support for ending the "Don't Ask, Don't Tell" policy of the U.S, military that has discriminated against openly homosexual service members since it was implemented in 1993.
Mullen's testimony was especially powerful, both in words and manner.  What was most effective was how he framed the issue, personally and as a military leader appropriately fixated on the institution of the armed forces.
Speaking for myself and myself only, it is my personal belief that allowing gays and lesbians to serve openly would be the right thing to do…No matter how I look at this issue, I cannot escape being troubled by the fact that we have in place a policy which forces young men and women to lie about who they are in order to defend their fellow citizens. For me personally, it comes down to integrity — theirs as individuals and ours as an institution.
Integrity.  Not equal rights, fairness, or equality, all of which are important and wonderful things in civil society, but not as high of a priority for the U.S. Military as integrity.  For decades, supporters of "Don't Ask, Don't Tell" and others who would seek to be more aggressive in rooting out homosexuality from the military have claimed that allowing gays to openly express their sexual identity would divide and weaken their institution.  Mullen explained the opposite; that to foster integrity required a firm adherence to an honest, sound, and incorruptible code.  In essence, only by permitting openly gay members of the military to serve could the United States military be truly complete and solidly united.
When "Don't Ask, Don't Tell" becomes a thing of the past–as it appears will almost certainly happen soon–it will be the words of Admiral Mullen that will be remembered as providing the final push to its repeal.  Of those words, there will be one–integrity–that will endure as the best reflection of Mullen and the men and women of the armed forces who will allow the United States to leave the company of nations such as Cuba, North Korea, Saudi Arabia, and Syria as countries that prohibit open homosexuals to serve in its military.