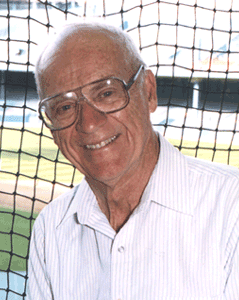 Ernie Harwell, the radio voice of the Detroit Tigers for 42 years, died earlier this evening at the age of 92.
Ernie was born in Washington, Georgia on January 15, 1918.  He began his broadcasting career in 1940 at WSB in Atlanta, and after serving in the Marine Corps during World War II, embarked on a remarkable 55-year career broadcasting Major League Baseball.  Including previous stints with the Brooklyn Dodgers, New York Giants, and Baltimore Orioles, Ernie announced over 8,000 baseball games, missing only two games that entire time.  In 1981, he became the first active broadcaster inducted into the Baseball Hall of Fame and he retired from the broadcast booth following the 2002 season.  Ernie is survived by his wife of over 69 years, Lulu, and their four children.
When he retired, Ernie signed off his final broadcast by thanking fans of the Detroit Tigers, who had listened to him and loved him for so long.  In a voice strained by emotion he said, "I might have been a small part of your life, but you have been a large part of mine."
But Ernie was, in fact, a very large part of my life, as he was for countless other devoted fans of the Tigers during the time he served as the voice of the team.  Unquestionably, others have similar stories to mine of important times Ernie was there with them, as he has been there for me.
Ernie was there on September 24, 1974, when Tigers outfield great Al Kaline smashed a double against in Baltimore for his 3000th hit.  Hearing the excited cheering of my three older brothers led me to join them and clearly conveyed to me the notion that there was something exhilarating about loving a sports team.
Ernie was there on August 16, 1975, announcing from Anaheim the end of a 19 game losing streak for the Tigers.  My brother Keith and I listened from our beds in the dark, as happy with that victory as if our team had just made the playoffs.
Ernie was there on August 9, 1978, somehow coming through our station wagon's radio on a rainy night while on a family vacation in Florida.  We won that game, but the real thrill was hearing Ernie so improbably from so far away.  It might have been that night that Keith and I imagined how great it would be if we could invent a device–"Automatic Ernie"–that we could turn on whenever we wanted to hear the Tigers announcer's voice broadcast a game, interview players, or share baseball stories from long ago.
Ernie was there throughout the late 70s and early 80s as the Tigers began building a young, competitive, and eventually great team.  Whitaker, Trammell, Morris, Parrish, and Gibson were mainstays on the field, but no more than Ernie was a part of the experience off of it.  I spent a few thousand hours listening to him announce the games from this time, and when the contest was over and he left the air until the next day, I'd mark the score on a Tigers schedule I kept posted on my bedroom wall.  I could amaze (maybe disturb) friends with the ability to recall what we did on those days and nights by looking at that schedule and recalling the details of the game that Ernie described to me.
Ernie was there every first day of the spring training season, the sound of his voice a more certain sign of the changing season than the rising temperatures or melting snow.  He welcomed us to another year of Tigers baseball, and without the slightest sense of proselytizing, the devout Christian concluded his opening comments with a favored biblical verse:
For, lo, the winter is past,
The rain is over and gone;
The flowers appear on the earth;
The time of the singing of birds is come,
And the voice of the turtle is heard in our land.
Ernie was there most memorably on October 14, 1984 at 7:41 PM when a high, short fly off the bat of Tony Gwynn descended from a darkening autumn Michigan sky and landed in the glove of Tigers leftfielder Larry Herndon, making the Tigers–my team–the World Series champion for the first time in my life.
Ernie was there at an afternoon appearance in 1988 at the Genesee Valley Mall, signing copies of his book, Tuned to Baseball.  After waiting several minutes behind a very talkative man who placed many items to be signed in front of the Tigers broadcaster despite the long line gathered behind him, Ernie greeted me and immediately thanked me for being so patient.  I'm pretty sure Ernie's sly and kind smile wordlessly conveyed that he too found the man to be a bit much to take.
Ernie was there in the 1990s, his voice slightly weakened by the years, but still sharp.  Never one for gimmicks, he did maintain a few signature phrases while developing some new ones:  called third strikes were followed with, "He stood there like the house by the side of the road and watched that one go by" and prodigious home runs were, "loooonnnnggg gone!"  My favorite featured Ernie describing a foul ball into the stands by playfully providing some local flavor, at home games, saying for instance, that "A young man from Flint will take that one home with him" or in Cleveland it might be "a fan from Shaker Heights", in Boston "a lady from Worcester." Double plays were "two for the price of one", home games came from Tiger Stadium "at the corner of Michigan and Trumbull."  Between these phrases and Ernie's depictions of the game were the sounds of the ball park; the crowd, the vendors, batted balls, and throws smacking leather gloves; sounds that Ernie had the wisdom and respect to allow to filter through to those of us listening.
Ernie was there on September 17, 2009 on a cold, wet night in Detroit, in the midst of a late-season collapse that would eventually cost the Tigers a division championship.  He was being honored by the team in a ceremony organized after Ernie shared the news that he had terminal cancer of the bile duct, explaining that he was choosing to live out his remaining days following doctors' recommendations that he not pursue further treatment.  Ernie said to the appreciative crowd, many of whom were in tears, "In my almost 92 years on this Earth, the good Lord has blessed me with a great journey.  And the blessed part of that journey is that it is going to end in the great state of Michigan."
Later in 2009, in what would be his last broadcast interview–a fascinating conversation with Bob Costas–Ernie described his approach to announcing that had served him and his fans so wonderfully for over half a century.  "All I tried to do was be myself.  I wanted to broadcast the game that I thought I'd like to hear as a listener. I tried to give the score as often as I could. I let the play take over and fill in with anecdotes or historical information that maybe nobody else came up with. There were going to be some people who like you and some who don't like you, and you have to accept that when you start out."
I do not doubt his sincere humility, but I have never come across anyone who has not liked Ernie Harwell.  For Tigers fans, the greatest part of tuning into the ballgame was the opportunity to spend some time with Ernie.  Like others following a favorite baseball team, we treasured the game and we would have stood by our beloved Tigers even during their lean years.  But we had something they did not; the best announcer in any place or any sport, the comforting presence of a genuinely decent person–a friend–always with us in our homes, cottages, cars, workplaces, and backyards, describing a game with his easy, clear, and distinctively southern tone.
For me, and for the millions of Tigers fans who loved Ernie Harwell, his voice is what we hear when we recall the summers of our past.  For those of us fortunate enough to have grown up listening to Ernie, his is also a voice of our youth.  I suspect it will always be that way.  I hope it will always be that way.