Ian C. Friedman is the author of four books and the co-author of two books.
Manny Ramirez (Chelsea House, 2010) provides lively and thorough glimpse into the life of the controversial baseball star targeted to students in middle and high school grades.
American Inventors, Entrepreneurs, and Business Visionaries (co-author, Facts on File, 2010) features updates on the lives of over 100 important American business leaders and thirty additional entries on the lives of leading figures such as Jeffrey Bezos, Michael Dell, and Jay-Z.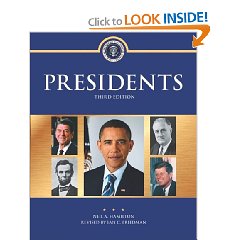 Presidents: A Biographical Dictionary (co-author, Facts on File, 2010) Profiles each of the men who have occupied the highest office in the United States and includes updates on the lives of Presidents Ford, Carter, George H.W. Bush, Clinton, and George W. Bush and an entry on the life of President Obama through inauguration.
Excerpt:
On an unseasonably warm and windy November night in Chicago, Barack Obama addressed over two hundred thousand elated and flag-waving supporters in the city's Grant Park and countless millions watching around the United States and the world.  He was now the president-elect of the United States; entrusted to lead a nation entangled in two wars and its most dire economic crisis since the Great Depression.
Less than five years earlier, few outside Illinois had ever heard of Obama.  He entered the national scene as a Senate candidate chosen to give the keynote speech at the 2004 Democratic National Convention in Boston. On that night, he referred to himself as "a skinny kid with a funny name who believes that America has a place for him too" and he spoke of a nation in which citizens can pursue individual dreams while ultimately and necessarily remaining undivided by race, ethnicity, and ideology.  A seat in the Senate and national prominence soon followed.
Obama's rare intellect, eloquence, and political organizing skill were praised by his admirers and even conceded by his detractors throughout the prolonged and momentous 2008 presidential campaign for president.  Yet it was not until the moment of Obama's decisive triumph on election night and his victory speech—rich with clear, sober, and hopeful themes of Americans' unique ability to overcome challenges—that the particularly remarkable journeys taken by the nation and the man it had just chosen as its leader become most profoundly understood…
A to Z of Latino Americans: Athletes
(Facts on File, 2007) profiles the lives and achieve

ments of over 170 of the greatest Latino and Latina competitors in the history of sports, including Roberto Clemente, Pele, and Oscar de la Hoya.  Currently in second print run.: "…packed with information on the exciting escapades of each champion of his or her field, and the series as a whole is peerless for its interest and multicultural thrust…An inexpensive and recommended purchase for all libraries." Library Journal (10/25/2007)
Excerpt:

The 16th player in Major League Baseball history to accumulate over 3,000 hits, Rod Carew combined artistic flair and scientific precision to earn seven hitting titles, a Rookie of the Year award, a Most Valuable Player (MVP) award, 18 consecutive All-Star Game appearances, and first ballot election to the Baseball Hall of Fame, solidifying his place as one of the greatest hitters in the history of baseball.
He was born Rodney Cline Carew on October 1, 1945 on a train traveling through the Panama Canal zone town of Gatun.  His name was given to honor the man who delivered him, Dr. Rodney Cline, who exited the white's only section of the train to assist Carew's mother when she went into labor.  He spent his childhood in Panama later recalling, "There is a special sensation in getting good wood on the ball and driving a double down the left field line as the crowd in the ballpark rises to its feet and cheers.  But I also remember how much fun I had as a barefoot kid batting a tennis ball with a broomstick on a quiet, dusty street in Panama."…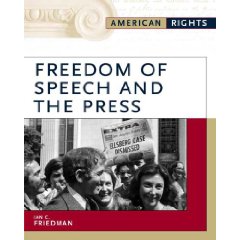 American Rights: Freedom of Speech and the Press
(Facts on File, 2005) features a lively and thorough history of free expression in the United States, as well as an examination of the critical current and future issues related to these rights.  Currently in second print run. : "clear, well-organized…the historical background is excellent." School Library Journal (12/1/2005)
Excerpt:
In 1860, Frederick Douglass, the prominent abolitionist speaker and writer, addressed an audience in Boston as week after a mob in that city had disrupted and broken up a meeting held to discuss ways to end slavery in the South.  With eloquent passion he stated:  "Liberty is meaningless where the right to utter ones' thoughts and opinions has ceased to exist.  That, of all rights is the dread of tyrants.  It is the right which they first of all strike down.  They know its power."
His words inspired those assembled and informed the countless number of people who would soon read them in newspapers.  They represent the simple yet radical belief in the value of free expression, specifically the rights to freedom of speech and the press that has made the Constitution of the United States and American society a shining light for those seeking liberty for well over two hundreds years.
The American rights to free speech and free press are expressed in the U.S. Constitution's First Amendment: "Congress shall make no law…abridging the freedom of speech, or of the press…" But these words are not as simple as they appear. How they have been understood and applied have been at the center of many of the fiercest debates in American history and arguments over what exactly is meant by "free speech" and "free press" remain as hot as ever today...

Library in a Book: Education Reform
(Facts on File, 2003; revised 2010) includes a historical survey of education reform, a chronology of significant events, detailed analysis of court cases and key legislation, concise biographies of important people, a glossary of key terms, listings and descriptions of relevant organizations, and an extensive annotated bibliography.: "…excellent…a volume that will provide timeless foundational information for those interested in [this] area. Every academic library should have this volume." American Reference Books Annual (3/31/2004.)
Excerpt:

It seems appropriate that a book about education reform in the United States begin with a standby of American schooling, a multiple choice question.
Analyze the quotations and answer the question that follows:
"The educational foundations of our society are presently being eroded by rising tide of mediocrity that threatens our very future as a nation and a people."
"Our standard for high school graduation has slipped badly.  Fifty years ago a high-school diploma meant something."
"Whether we like it or not, we're beginning to see that we're plot pitted against the world in a gigantic battle of brains and skills."
The quotations noted above reflect beliefs about the condition of American public education commonly held in the
A     1980's
B    1950's
C    early 1900's
D    all of the above
The correct answer is D…