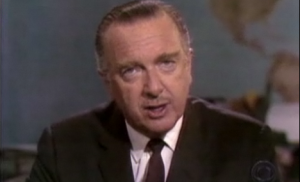 No offense to Katie Couric, Brian Williams, and whoever is anchoring the news at ABC right now (Diane Sawyer? Really?), but it's hard to imagine any of them saying anything that would help lead a president of the United States to consider leaving office.  But that's what happened 42 years ago tonight, when CBS Nightly News anchor Walter Cronkite concluded a special broadcast on the recent Tet Offensive with a rare, brief, and potent editorial suggesting that America cease fighting the Vietnam War.
That evening, the highly-respected and influential Cronkite said:
To say that we are closer to victory today is to believe, in the face of the evidence, the optimists who have been wrong in the past. To suggest we are on the edge of defeat is to yield to unreasonable pessimism. To say that we are mired in stalemate seems the only realistic, yet unsatisfactory, conclusion. On the off chance that military and political analysts are right, in the next few months we must test the enemy's intentions, in case this is indeed his last big gasp before negotiations. But it is increasingly clear to this reporter that the only rational way out then will be to negotiate, not as victors, but as an honorable people who lived up to their pledge to defend democracy, and did the best they could.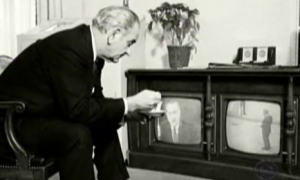 President Lyndon Johnson, watching live in the White House, reportedly then turned to aides and said, "If I've lost Cronkite, I've lost Middle America." He would soon explain to the nation–accurately–that the Tet Offensive had been successfully repelled and was in fact a huge military failure for the Vietnamese communists.  But it was too late.  As Cronkite noted in his editorial, the public optimism of U.S. government and military officials about the progress of the Vietnam War was not in concert with the nagging realities of a quagmire.  It was largely this credibility gap that destroyed Johnson's presidency.
Despite all that he achieved as president–broad, admirable, and enduring strides in civil rights, voting rights, and ambitious Great Society programs such as Medicare, Medicaid, and Head Start–Johnson would never recover politically from his failed Vietnam policies.  By the early spring of 1968, increasingly intense anti-war protests, the surprisingly impressive intra-party challenge to his reelection from Senator Eugene McCarthy in the New Hampshire primary, and the depletion of his support from mainstream Americans, as reflected in the editorial by Cronkite, convinced Johnson to leave office at the end of his term.

On March 31, 1968, looking much older than his fifty-nine years, Johnson addressed the nation in a televised speech.  He spoke for over a half-hour about a bombing halt and prospects for peace talks in Vietnam.  Then, explaining that the nation's and the world's hopes for peace demanded a president whose time and energy was not devoted to partisan causes, Johnson stunned listeners with the announcement, "I shall not seek, and I will not accept, the nomination of my party for another term as your president."
Johnson's remaining months in office were racked by a degree of tragedy and domestic instability not seen since the Civil War.  In April, Martin Luther King Jr. was assassinated in Memphis, and two months later Senator Robert Kennedy–who was seeking the Democratic presidential nomination abandoned by LBJ–was slain in Los Angeles.  In August antiwar protesters at the Democratic National Convention in Chicago chanted "The whole world is watching!" while they violently clashed with police in front of television cameras.  In November, Johnson suffered a final political blow when his vice president, Hubert Humphrey, lost the presidential election to Richard Nixon by less than one percent of the popular vote.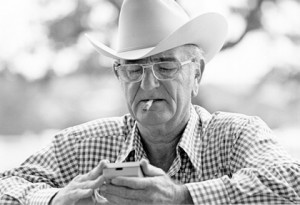 Tormented by the troubled times in which he left the presidency, Johnson retired to his ranch near his birthplace in the hill country near Austin, Texas.  Over the next few years many of his beloved Great Society programs were dismantled or neglected while the division and death of the Vietnam War continued.  Alone in his bedroom on January 22, 1973, Lyndon Johnson suffered a fatal heart attack.  Five days later the United States officially ended its combat role in the Vietnam War.
7 Responses to ""If I've lost Cronkite, I've lost Middle America." – Lyndon Johnson, February 27, 1968"