There are many insightful quotations about the history's meaning and power that have been spoken by Americans.  Below, is the first of what will be several such quotes that I will feature on this site.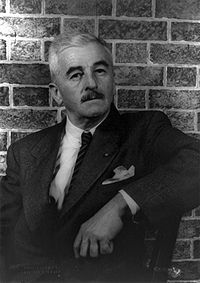 "The past isn't dead.  It isn't even past." – William Faulkner, 1951
Featured in the southern novelist's book, Requiem for a Nun, this quote gained renewed prominence during the 2008 Democratic campaign for the presidency when Senator Barack Obama included a slightly altered version of it in his famous "race speech".  Delivered at the height of the potentially disastrous peak of the Reverend Jeremiah Wright  episode, Obama's use of it, like Faulkner's as spoken by character Gavin Stevens, related to the potent, enduring, and often troubling legacy of racial tension in American life.
However, the quote can fairly be applied to almost any aspect of American life.  History is present everywhere–in what we recognize as "historical", in others we encounter, in people around the world, and in us.  It occupies a part of our subconscious that influences, and sometimes determines, where we have been, where we are, and where we will go.
461 Responses to ""The past isn't dead. It isn't even past." – William Faulkner, 1951"
Write a comment