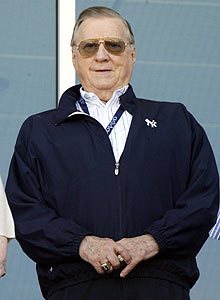 George Steinbrenner, the most famous, infamous, and successful owner in modern American sports history, died early today at the age of eighty.
He was also a bombastic bully who humiliated underlings and bragged about the fear he instilled in others, a blowhard who lied about beating up opposing fans on an elevator, and a petty man who was suspended by Major League Baseball commissioner Faye Vincent in 1990 for paying $40,000 to a known gambler with ties to organized crime to dig up dirt on Dave Winfield, a star for the Yankees at the time .  Critics also note that his success was not the result of his baseball acumen–sharp Yankees' baseball men managed to overcome Steinbrenner's legendary impulsiveness and meddling–but rather because of his exploitation of baseball rules that allow the wealthiest of teams to spend as much money on players as they can.  And no team has been wealthier than the Yankees, who have reaped an explosion of revenue from cable television in America's largest market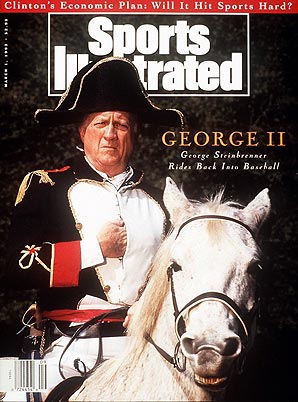 Steinbrenner's supporters point to the facts that as the owner of the Yankees, he consistently and relentlessly pursued championships and ultimately won seven of them during his tenure with the team.  Sure, he was abrasive and demanding they concede, but always in the quest to win.  The "Bronx Zoo" atmosphere that he helped create, particularly in the first half of his ownership, was a harmless form of entertainment.  Plus, they add, he must have been a pretty good businessman for turning a nine million dollar purchase when he became principal owner in 1973 into, by far, the most valuable team in baseball, with an estimated worth of over one billion dollars today.
Considering that Steinbrenner was such a prominent sports and cultural figure over nearly four decades, it is somewhat surprising that the are so few memorable quotations spoken by him.  There is, however, one great quote closely associated with him.  Fittingly, it came from Billy Martin, who was hired and fired as Yankees manager five times by Steinbrenner.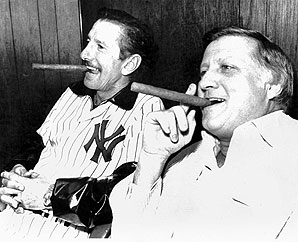 Martin, who was quite a colorful character himself, had insisted that New York's mercurial star Reggie Jackson be suspended for insubordination after repeatedly ignoring Martin's on-field directions.  Steinbrenner reluctantly agreed, but limited that suspension to only five games.  The Yankees went 5-0 during Jackson's suspension. Prior to his return, Jackson told reporters that he had done nothing wrong.  When Martin learned of these comments, he fumed to reporters, ripping both Jackson and his benefactor Steinbrenner.  Referring to what he considered Jackson's selfish delusion and Steinbrenner's guilty plea on two charges of illegal campaign contributions to the 1972 presidential campaign of Richard Nixon, Martin said: "The two of them deserve each other.  One's a born liar and the other's convicted."
Within hours, Martin was no longer the manager of the Yankees, though he would return within a year.  The reigning two-time World Series champion Yankees then suffered through an 18-year drought without a title. They returned to baseball's summit in 1996, beginning a string of four championships in five years. Steinbrenner's health deteriorated in recent years and he ceded control of the Yankees to his two sons in 2007.
Last year, the Yankees defeated the Philadelphia Phillies in the World Series, giving Steinbrenner the seventh championship during his 37-year ownership of the team.  Despite all the criticism, ridicule, controversy, and hostility that he provoked and received, George Steinbrenner died a champion.