They numbered fewer than 200 men, but they were significant.  Led by General John Pershing, they were the first American military force to ever reach the continent of Europe, pulling into port at Boulogne, France to calls of, "Vive l'Amerique!" 93 years ago today to support the Allied Powers in World War I.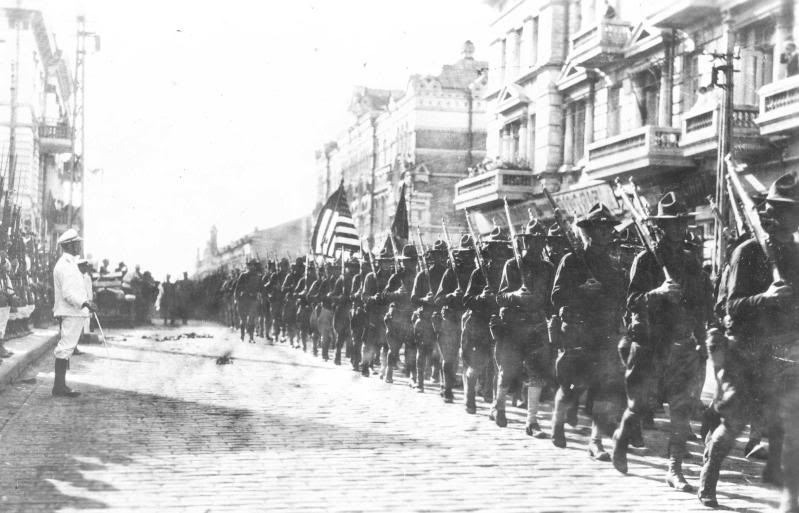 The total number of troops in the American Expeditionary Force (AEF; pictured left in Paris parade) would eventually swell to over one million.  More than 50,000 Americans would die in battle and an additional 60,000-plus Americans died from non-battle causes, mainly influenza and other illness.  The United States entered World War I for many reasons, but this rationale was often framed within the context of supporting friends, such as France, who had come to America's aid at a time of great need.
This sentiment is reflected in the words of an American lieutenant colonel Charles Stanton.  Remembering the enormous contribution of French Marie Joseph Yves Roches Gilbert du Motier, who was better (and far more succinctly) known as the Marquis de Lafayette.  Following a parade through Paris amidst the enthusiastic and welcoming embrace of the French, Pershing, Stanton, and the American troops arrived at the grave of the Marquis.  Though the words are often incorrectly attributed to the better-known Pershing, it was Stanton who then said the ultimate return-the-favor quote:
"Nous voila, Lafayette (Lafayette, we are here!")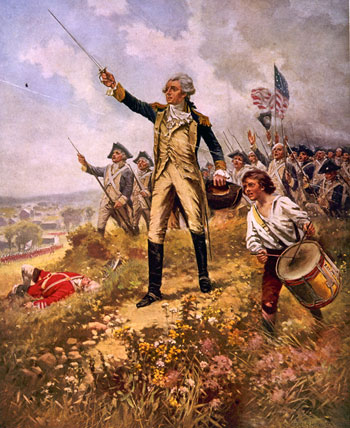 The gratitude from the Americans was well deserved.  The Marquis de Lafayette was a 19-year-old military officer from France who was so moved by reports of the colonial push for independence that he decided to come to America and serve in battle against the British.  Benjamin Franklin urged General George Washington to accept Lafayette as an aide-de-camp because of the Frenchman's strong reputation and in hopes that the young French officer could help summon increased French support for the revolutionary cause.  Franklin's assessment proved wise, as Lafayette returned to France between tours in the colonies–where he served and suffered wounds in battles including Brandywine, Monmouth, and Yorktown– and played a key role in attracting critically needed French resources for the American troops.
The Marquis de Lafayette died in Paris on May 20, 1834, almost ten years after returning to the United States as an official guest of President James Monroe.  During this visit, he toured every state and traveled over 6,000 miles.  In 2002, an act of the U.S. Congress made Lafayette only the sixth of seven people an honorary citizen of the United States.  He is buried in Paris under soil from the site of the Revolutionary War's Battle of Bunker Hill.
5 Responses to ""Lafayette, we are here!" – Charles Stanton, July 4, 1917"