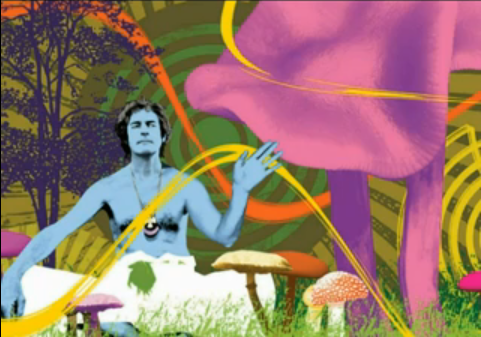 Timothy Leary was in the shower when the phrase that would come to capture his philosophy and reflect his influence struck him.  Soon after this bathroom epiphany, Leary unveiled the quotation–"Turn on, tune in, drop out"— to a crowd of about 25,000 at a January 14, 1967 "Be-In" in Golden Gate Park in San Francisco.
Leary, the world's most prominent advocate for the use of LSD and other powerfully psychedelic drugs and a man once described by President Nixon as, "the most dangerous man in America," died 14 years ago today.
He was born on October 22, 1920 in Springfield Massachusetts.  Leary was the bright, only child of a retired military officer and dentist father and mother, an observant Catholic who was upset by her son's decision to drop out of Holy Cross College after two years.  He then attended West Point, but dropped out there as well before earning a degree in Psychology from the University of Alabama.  During World War II, Leary served in the Army as a psychologist at a hospital in Pennsylvania and after the war he went to the University of California at Berkeley, where he received a PhD in Psychology.  Leary worked at a hospital in Oakland and as a professor at the University of California at San Francisco Medical School from 1950-1955, but left the state for Europe soon after his wife and the mother of their two children committed suicide in their garage on his 35th birthday.
After returning to the United States, Leary worked as a lecturer at Harvard.  The obituary of Leary published in the British newspaper The Independent describes an event soon after his return that would profoundly change his life and influence:
In 1960, then aged 39, beside the swimming pool of his rented summer villa in Cuernavaca, Mexico, he ate a handful of odd-looking mushrooms which he had bought from the witch doctor of a nearby village. Within minutes, he was later to recall, he felt himself "being swept over the edge of a sensory niagara into a maelstrom of transcendental visions and hallucinations. The next five hours could be described in many extravagant metaphors, but it was above all and without question the deepest religious experience of my life." On returning to Harvard he began experimenting on himself, his colleagues, and students with psilocybin, a chemical derivative of mushrooms with powerful mind-altering effects. He said he decided to "dedicate" the rest of his life to the "systematic exploration" of this "new instrument".
Leary continued experiments with these mind-altering substances, which were still legal at the time, until an embarrassed Harvard administration fired him.  With the support of a wealthy benefactor named William ("Billy") Mellon Hitchcock, Leary worked out of a mansion in Millbrook, New York for the next few years.  Here, "Dr. Tim" ran a kind of commune and drug research institute, attracting people from around the world who were drawn to his effusive praise of psychedelics and his rejection of mainstream thought and customs reflected in his famous phrase.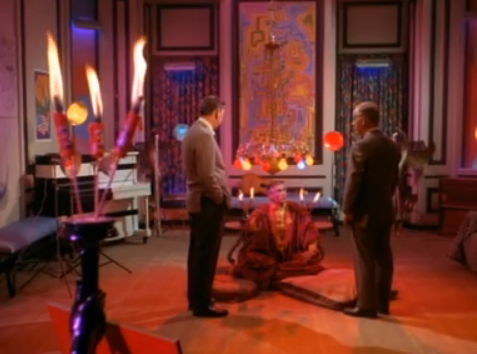 During the mid-late 1960's Leary reached his height of prominence, despite a stint in jail for drug possession and his subsequent escape, and consistently expressed his belief in the benefits of drugs. A fascinating example of his cultural relevance is a 1968 episode of the popular television series "Dragnet" portrayed a character named "Brother William" who was based on Leary (click here to watch the entire episode, which includes a remarkably candid, nearly episode-long give-and-take between the Learyesque character and Detectives Friday and Gannon.)  Controversy over his advocacy of LSD and its effects were rampant at the time and remained even into the 1970s and 1980s, highlighted by this compelling broadcast confrontation from 1979 between Leary and television personality Art Linkletter (who died this past Wednesday at 97), whose daughter Diane died in a six-story fall from a building while reportedly under the influence of the drug.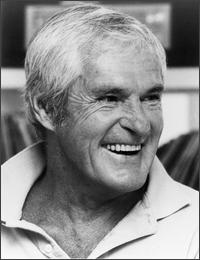 Leary's life was itself something of a bizarre trip, which often placed him in the center of the counterculture in the late 1960s: he became rich as a bestselling author, he joined John Lennon and Yoko Ono in singing "Give Peace a Chance" at the 1969 Montreal "Bed-In", he was arrested for drug possession at his home in New York by G. Gordon Liddy, who would later become infamous for his criminal role in the Watergate break-in, he occupied a neighboring cell to Charles Manson at California's Folsom Prison, he broke out of jail with the help of the radical Weather Underground (against whom he would secretly provide information to the FBI), and he lived for a short time as a fugitive in Algeria and Afghanistan before returning to a U.S. jail in 1973.
After being paroled in 1976, Leary remained an active, if somewhat marginalized figure in the consciousness-raising movement.  For years he addressed college audiences and gained notoriety for dabbling in comedy and in public debates with Liddy.  During the 1980s and early 1990s he became an early voice extolling the benefits that computer technology could have on the human mind's ability to process reality.  In 1995, Leary learned that he had inoperable and terminal prostate cancer.  He used his illness and the burgeoning power of the Internet to explore and celebrate the end-of-life process, which concluded with his death at his home in Beverly Hills, California on May 31, 1996.  Leary, who was divorced twice and separated after the death of his first wife, was survived by his sons Jack and Zachary, and preceded in death by his daughter Susan, who took her own life in 1990.
One Response to ""Turn on, tune in, drop out." – Timothy Leary, January 14, 1967"