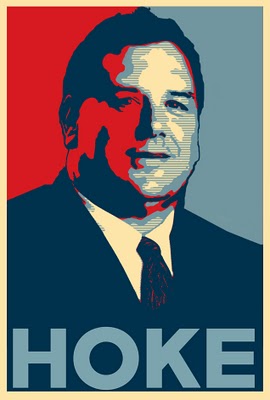 Welcome to the new coach of the University of Michigan Football team, Brady Hoke.
Hoke said many things during a nearly 45 minute introductory press conference today.  He was loud, but he didn't yell.  He struck me as a bit nervous, though any unsteadiness seemed to stem from barely contained excitement–a kind of glee mixed with awe–that suggested a comfort with the situation and with himself.  As one poster at MGoBlog pointed out, Hoke appeared to lack an inside voice, his statement and answers to reporters' questions expressed in an earnest tone and displaying equal parts Vince Lombardi and Matt Foley.
The one line that hit me square in what Bob Ufer might call my maize and blue heart was part of his response to a question regarding whether Michigan was still an elite program.  That Michigan is not what it once was and seemingly always would be (I was 38 years old when the team had their first losing season in my lifetime) is a nagging concern for me and countless other Michigan fans. When listening to the question, Hoke's joviality gave way for a moment.  He appeared incredulous and a little pissed.  He rambled a bit in explaining that the notion that Michigan does not still hold an elite place in college football is ridiculous, asking who is saying that as if the offending words concerned the purity of his daughter.  Then, without a trace of pretense he said, "This is Michigan, for God's sakes!"
I cannot say with anything remotely close to certainty that Hoke will be successful as Michigan's coach.  I was not excited about the prospect of having Hoke lead Michigan's football team last week after athletic director Dave Brandon fired Rich Rodriguez following three tumultuous seasons and former Michigan quarterback great Jim Harbaugh left his job as coach at Stanford to become head coach for the San Francisco 49ers, apparently rejecting his alma mater to do so.
Hoke's resume was impressive, but far from spectacular.  He was a defensive assistant at Michigan for eight years (1995-2001), which included the 1997 National Championship Wolverines squad.  He had coached his alma mater, Ball State, for six years before heading to San Diego State for two years, compiling a 47-50 record, though he left each previously moribund program in far better shape than it had been when he arrived.  So I tried to keep an open mind.  I read as much about him as I could find and watched interviews and clips of games from his teams over the past several years.
By the time the report came late Tuesday afternoon that Hoke would indeed take over at Michigan, I had moved beyond resignation and into the realm of cautious excitement regarding his hiring.  Some, maybe much, of that excitement was no doubt the result of relief that the coaching search process was over (I could stop clicking refresh every two minutes at MGoBlog.)  After these very uneasy past few weeks, the depression of the Gator Bowl blowout loss to Mississippi State, and it's messy aftermath, Michigan has a coach and they can start moving forward with some certainty and momentum.
And though I have explained to friends and family who have asked me my thoughts on the coaching search that getting a great coach without Michigan ties was far better than getting a good coach who was in some way a "Michigan Man," I loved that Hoke apparently accepted the job the moment it was offered, without even inquiring about what it paid.  I loved that his passion and appreciation for the team and the university were obvious and sturdy.   I loved that he cheered to The Victors while in the crowd at the Michigan basketball game last night, clapping and thrusting his fist in a manner that only real Michigan fans can.  I loved that there was nothing he wanted more professionally than to coach Michigan, and as he said, he "would have walked" to Ann Arbor from San Diego if necessary to take the job.
I hope and expect that Hoke's enthusiasm and respect for Michigan will infuse recruits, players, and fans with similar feelings and that soon, only a fool would ask if Michigan is still among the elite of college football.  This is Michigan, for God's sakes.
(photo: Hoover Street Rag)