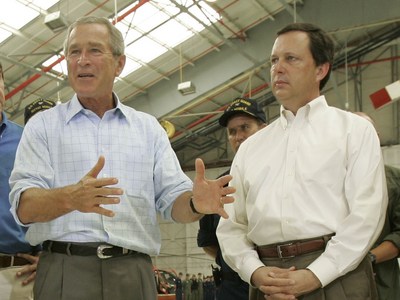 President George W. Bush was, by his own admission, not renowned for his eloquence.  His numerous verbal gaffes were the target of gleeful ridicule by his opponents, but these spoken flubs were ultimately harmless in affecting his political fortunes.  One quote, however, did significantly harm his presidency and–as the frequent references to it that have accompanied the fifth anniversary of Hurricane Katrina this week have shown–has remained a stubborn stain on his legacy.
Bush could not fairly be blamed for a natural disaster as severe as Hurricane Katrina, but he was eviscerated by critics who felt that the federal response to the widespread devastation caused by the hurricane was negligent and incompetent.  Personifying this incompetence was Michael "Brownie" Brown, the head of the Federal Emergency Management Agency (FEMA), whose hapless attempts to manage or even discuss the crisis as it was occurring shocked those who viewed the chaos and despair in New Orleans.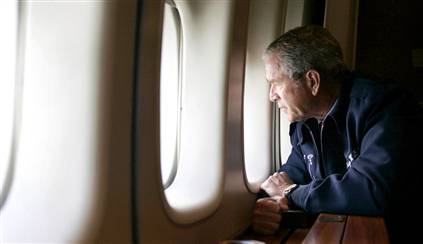 As reports and images of Katrina's catastrophic effects proliferated, the criticism of Bush and Brown intensified.  Bush continued with his planned schedule in the days after the hurricane hit land, traveling to California for speeches before returning to Washington where he offered an easily refuted defense of the vilified federal preparation and response to Katrina, explaining on ABC's Good Morning America, "I don't think anyone anticipated a breach of the levees."  Bush then took a flyover tour of New Orleans, which reinforced among many the notion that he was unwilling or unable to truly confront the scope of the crisis.  Later that day, Bush made some remarks at a televised briefing from the Mobile, Alabama airport, noting enthusiastically of his beleaguered FEMA director, "Brownie, you're doing a heck of a job."
With this public backing of Brown, the president simultaneously provided ammunition to those who felt he was callous and out of touch.  Within three months, Bush's approval ratings would fall from the mid-40s to less than 40%.  They would never rise above that level for the remainder of his presidency.  Making matters worse for Bush, this quote has become something of a national punch-line, as "heck of a job" is now a common sarcastic description of a complete and total screw-up.
Brown resigned less than two weeks after the infamous quote and is currently the evening prime-time host of "The Michael Brown Show" on KOA-850AM, Denver's number one news-talk radio station.