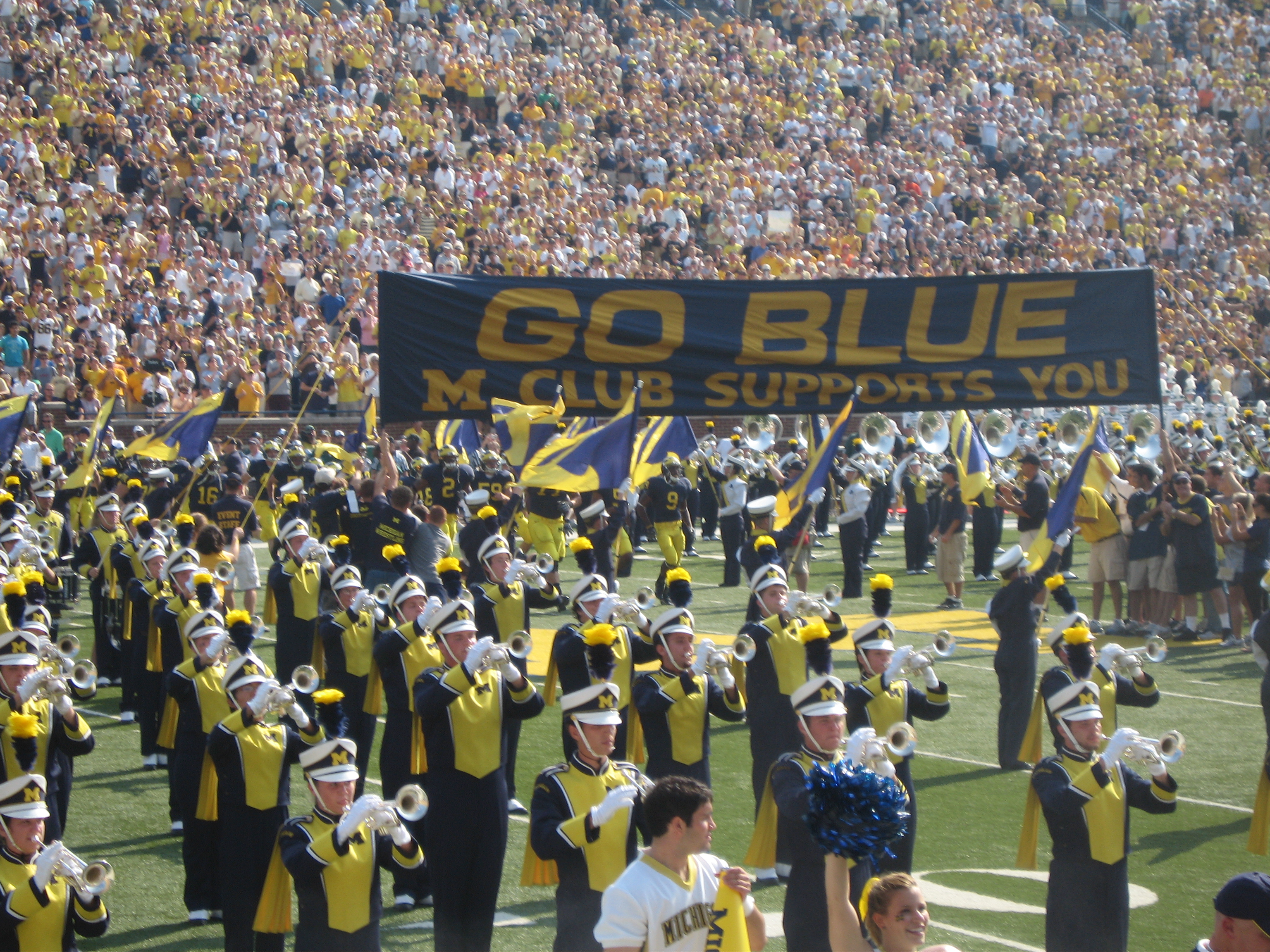 I was four years old when I fell in love with the University of Michigan Wolverines Football Team.  We (fellow passionate fans understand my use of the term "We" when referring to a team for which we do not actually play) tied the Ohio State Buckeyes that day 10-10, as Michigan kicker Mike Lantry missed a last-minute 44-yard field goal attempt that would have almost certainly provided us with a win over our arch-rivals.
Despite the disappointment of that game's conclusion, I was hooked and since that November afternoon in 1973, I have spent literally every autumn Saturday following the Wolverines.  As a child, I would join my three older brothers listening to the games on the radio and–in those days before the proliferation of cable–watching the few Michigan games a year broadcast on television.
As I got older I continued to listen and watch, though I often joined more than 100,000 others by attending a game or two a season at Michigan Stadium, my spirits for the day inexorably linked to the fortunes of my team.  During my four years as a student at that great university I continued what I had done since preschool; spending about three and a half hours every Saturday cheering for Michigan.  I still do it, though now often by checking my phone for updates during breaks in my children's soccer games, while the DVR hums at home.
Throughout my life, Michigan was almost always a respected powerhouse.  From 1969–the year of my birth–through 2007, we did not have a losing season.  Michigan won or shared 21 Big Ten championships as well as the national championship in 1997.  Undoubtedly, this incredibly successful run contributed to my love for the team.  But so did the bold majesty of the helmets and the beautifully vivid combination of maize and blue that adorned the uniforms.  Deepening my appreciation was a unique kind of anticipation that was sparked when the public address announcer initiated the start of the day's activity by saying, "Band, take the field!" And of course, there are the indelible moments of joy and despair that forged me to the team: AC's catch, Desmond's return, and Woodson's pick; Harry Oliver's kick, Colorado's Hail Mary, and every Rose Bowl during the 70s.
Although the good has far outweighed the bad over the decades, the last two seasons for Michigan fans have been rough.  Records of 3-9 and 5-7 have been depressing and disorienting.  Many believe Michigan will have a losing team again this year.
But that will not matter tomorrow afternoon, just before 3:30 pm.  At that time, in the brisk light of an early September Saturday in Ann Arbor, the 2010 Michigan Wolverines will charge onto the field as one.  Exhorted by the fans, they will leap in exuberance as they near the giant block M in the center of the field to slap a banner exclaiming, "GO BLUE!"  All will be new and hope will rise with each crescendoing chorus of "Hail to the Victors."